Where to Purchase
It's a wonderful time to be a Lone Wolf fan. There are so many Lone Wolf related materials being published today that it can be hard to keep track of them all. That's why we've gathered a list of currently available products. We'll keep the list up-to-date to give you a single place where you can find what products are out there.
Please let us know if we have missed anything.
Last reviewed: 2019-01-26
Holmgard Press
Note: With the passing of Joe Dever, the fate of Holmgard Press is uncertain. It is not clear whether or not they are currently shipping any books, so please exercise caution when ordering. We will keep you updated.
Cubicle 7
In The Lone Wolf Adventure Game tabletop RPG, you are Kai Lords, brave and noble warrior-monks sworn to protect the realm of Sommerlund from the evil of the Darklords, adventuring across the world of Magnamund. You and your friends will face terrifying enemies and uncover fiendish plots, working together to overcome the wicked plans of the Darklords and emerge victorious!
Heroes of Magnamund (hardcover) is now available in UK stores. UK pre-orders and Kickstarter backer copies for UK and Rest of the World have shipped; USA copies will ship on Thursday Sept 22. The book will be available to buy in US stores on 12th October. You can order copies direct from the C7 Mail Store (with a free PDF bundle).
Forge Reply / BulkyPix
Lone Wolf has returned! Back in the 1980's, Joe Dever's iconic gamebooks became an instant classic of interactive fantasy fiction. Now, the magic returns as an award-winning video game. Experience an enhanced gamebook with non-linear choices, 3D graphics and top notch combat system. The story is brand new and has been written by the author himself. It is available for Windows, OS X, smartphones, and tablets in English, French, Italian, German and Spanish. (game trailer, soundtrack)
Kickstarter
Kickstarter "helps … creators find the resources and support they need to make their ideas a reality." There have been several successful Lone Wolf related Kickstarter campaigns. It's not like a traditional store: the product isn't yet available (you're helping to fund its production), and in order to receive a product, you must help fund the campaign while it is running. The item is a future reward for helping to fund the campaign.
This is a campaign to publish an entirely new gamebook set in Magnamund illustrated by Gary Chalk and published in both English and French! (Campaign ends February 27, 2016)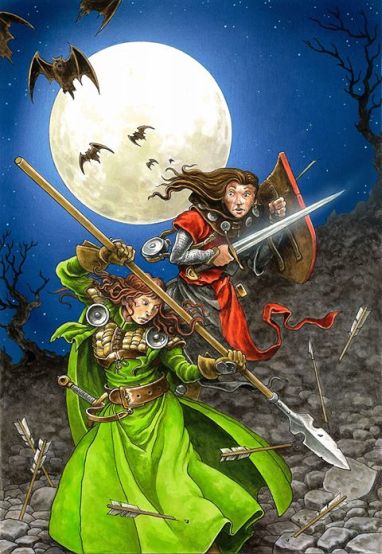 Worldweaver
Worldweaver created an interactive ebook edition of the new Flight from the Dark adventure for the Kindle that keeps track of game stats for you.
* Worldweaver Kindle editions available only in the United States. A portion of your Amazon purchase price helps Project Aon to share the world of Lone Wolf with long-time fans and with new generations of readers. See Help Us for details.
Matchlock Miniatures
Matchlock Miniatures has created a range of collectible Lone Wolf figurines to accompany the Lone Wolf Adventure Game and for the Lone Wolf gamebooks and novels. To find the miniatures, see the list of links on the left of their website.
Gallimard Jeunesse
French-language publisher Gallimard Jeunesse is currently selling Lone Wolf gamebooks 1-20.
Mantikore-Verlag
German-language publisher Mantikore-Verlag is currently selling Lone Wolf gamebooks 1-22, World of Lone Wolf (Grey Star) 1, Legends of Lone Wolf 1-2, and several multiplayer books.
Rakuten Kobo
Kobo is selling ebooks in German for books in the Legends of Lone Wolf series.
Vincent Books
Italian-language publisher Vincent Books is selling Lone Wolf gamebooks 1-10, and 29 and Freeway Warrior 1-2.
Åskfågeln
Swedish-language publisher Åskfågeln is currently selling Lone Wolf gamebooks 1-5, maps, and roleplaying products.
Copernicus Corporation
Polish-language publisher Copernicus Corporation is selling Lone Wolf gamebooks 1-6, 8, and 10.
Fantasy Obchod
Czech-language publisher currently selling Lone Wolf gamebooks (currently 1-11), maps and accessories.